Latest in Materials Handling
March 19, 2018
February shipments, at 949,198, rose 13% annually, marking the fastest rate of growth going back to February 2016, topping January's…
March 16, 2018
Not enough warehouse staff? Finding it difficult to keep up with orders during peak periods?
March 14, 2018
Officers elected at annual meeting, including Ned Thompson as new president of CEMA.
March 14, 2018
Acquisition expands Duravant's material handling product offerings in North America.
March 14, 2018
Commerce reported that February retail sales dipped 0.1% from January to February at $492.0 billion, while seeing a 4.0% annual gain.…
March 13, 2018
Compatible with a variety of equipment configurations, integrated order consolidation provides reliability and sort efficiency with the…
March 13, 2018
Detailed visibility replaces shrugging and finger-pointing with improvement and efficiency.
March 13, 2018
Here's how one of the world's largest 3PLs is looking to tomorrow's innovative technologies, including heads-up display and robotics,…
March 13, 2018
In a case-quantity world, conveyor was king. E-commerce, poly bags and the need for incredible flexibility posed a brief challenge, but…
March 13, 2018
Modern's annual Productivity Achievement Awards honor companies that have made exceptional operational improvements through materials…
Materials Handling Products
AGVs
Improved vision technology for AGVs. AGV's for Pallet management, 3D Sensors guided Automatic Guided Vehicles move pallets in the warehouse
Learn more.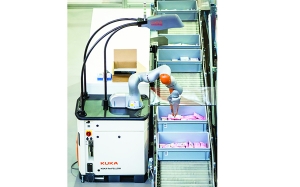 Robotic picking solution handles broad range of products. Robotics in the warehouse. Swisslog Robots for picking.
Learn more.
AGVs
AGV battery can be charged in unit. The heavy-duty model BST undercarriage AGV tugger operates for a full 8-hour shift without a battery…
Learn more.
Conveyors & Sortation
Conveyors & Sortation
Streamlined, scalable order sortation system
Learn more.
Racks, Shelving & Mezzanines
100' Magnetic Roll is Pre-Scored every 3" to fit Avery® Labels #5160, #5520 label size 1" x 2 5/8". Peel and stick standard computer…
Learn more.