2017 Software User Survey: Evaluate, purchase, upgrade
Readers are buying and replacing warehousing and distribution center software in 2017, but not before they do their own homework.

By
Bridget McCrea, Editor
·
July 4, 2017
Few would argue the important role that software is playing in the smooth running of today's warehousing and distribution operations, and the results of Modern Material Handling's "2017 Warehousing & Distribution Center Software Usage Study" proves this point. In this year's Peerless Research Group (PRG) survey of Modern subscribers, respondents shared their views of current software usage, projected software investments, and critical implementation and usage concerns.
Readers are buying and replacing warehousing and distribution center software in 2017, but not before they do their own homework.
As warehousing, manufacturing and DC professionals who have been personally involved in using, evaluating or purchasing software for their company's materials handling operations, 43% of survey respondents say their materials handling software usage has increased in the past two years. And, 56% say usage remained the same as 2016.
Thirty-four percent of respondents say they are currently "scrutinizing software investments and moving forward cautiously," while 18% are moving forward with new investments this year. Another 18% will "hold off" on their software investments in 2017, and 17% want to upgrade existing software versus purchase new packages.
Making the leap
When asked which software applications are currently in use in their company's warehousing and distribution environment, readers' responses showed which applications are gaining popularity and which are less popular than they were in 2016. For 2017, 55% of readers plan to invest less than $100,000 in supply chain software; 26% will allocate $100,000 to $499,999; and 8% will spend $500,000 to $999,999.
The largest portion of readers (56%) are using warehouse management systems (WMS). Then, 32% of respondents are using transportation management systems (TMS), 28% use asset tracking software, and 28% use supply chain management and planning (SCP) software such as supply chain planning and demand planning. In addition, 26% are using labor management systems (LMS) in the warehousing and distribution environment, 22% use warehouse control systems (WCS), and 10% rely on slotting software to help run their operations.
And while it reigns as the top software application in today's warehouses, WMS experienced a usage dip from 61% in 2016 to 56% in 2017. This trend remained consistent with which systems companies plan to implement or update in the next two years (WMS saw a decrease in this area from 38% in 2016 to 34% in 2017). WCS usage saw a similar decrease, with usage dropping from 32% in 2016 to 29% in 2017 (and future evaluation and implementation of such software decreasing from 24% to 21% in 2017).
"I don't think the whole sales pitch of instead of getting an WMS you can implement a WCS and use it for warehouse management has really resonated," says Ian Hobkirk, founder and managing director at Commonwealth Supply Chain Advisors. "By and large, companies are sticking to WMS to solve their warehousing and DC challenges."
Of those readers using WCS, 28% have had the systems in place for less than five years and another 28% have been using the solutions for less than 10 years. And, 45% last upgraded their WCS less than three years ago and another 22% have never upgraded their systems. In measuring the return on investment (ROI) from these investments, 46% of readers say it took anywhere from six to 18 months to reach that goal, but 48% say they either haven't realized the return yet (or, don't know the answer).
Evaluate, purchase, upgrade
When asked which software applications they plan to evaluate, purchase or upgrade within the next 24 months, readers point to WMS (34%), WCS (21%), asset tracking (19%) and labor management systems (LMS) (18%, versus 11% in 2017) as their top picks. As labor has come to forefront as a major cost component to running a warehouse, Hobkirk says he's not surprised more companies are thinking about labor.
"We're definitely having more discussions about labor management than we ever had in the past," says Hobkirk, who points to states like California (which is slated to raise minimum wage by nearly 50%), as hotbeds for potential LMS implementation in the near future. "Labor is definitely on radar screens right now as they more closely examine this expense and as they make adjustments elsewhere," he says.
Most readers (64%) have had their LMS in place for less than 10 years and 30% upgraded that system within the last five years. In terms of achieving an ROI on those systems, 38% say it took anywhere from six to 18 months while 42% have yet to hit that milestone (or, don't know the answer). Asked whether they plan to evaluate or implement engineered labor standards, 37% of respondents say "yes," 26% are already using them, and 37% have no plans to do so. Also, 54% of companies have no plans to adopt an employee payment program that's tied to productivity improvements (and 46% do).
For WMS, 28% have had their WMS in place for less than five years and 37% of them last upgraded that application within the last five years. And, 26% have had a WMS in place for less than 10 years, and 21% have been using their existing warehouse management systems for 15 years or more. This presents significant opportunity for WMS vendors whose solutions possess the latest "bells and whistles" that didn't exist back in 2002.
In most cases, companies purchase WMS to upgrade existing packaging systems (54%), gain access to real-time controls (30%), manage labor (29%) and deploy inventory (22%).
When asked how long it took to realize ROI from their WMS investment, 40% had yet to reach that point (or, didn't know the answer), while 21% say it took 12 to 18 months. Another 17% say it took six to 12 months to realize ROI.
Hobkirk says his firsthand experience in the market paints a different picture. "It's interesting to see that a lot of firms are reporting very good ROI of 18 months or less," he says. "In reality, most WMS offer a 24- to 36-month payback, so maybe some of those lower estimates where just that—estimates."
Driving forces
Supply chain planning (SCP) applications continue to maintain their level of popularity in the warehousing environment, where 28% of companies are using them. This adoption level remained steady from 2016 to 2017, with 34% of respondents reporting that their SCP has been in place for less than five years.
Most companies (38%) last upgraded their SCP applications less than five years ago, while another 15% did so within the last 10 years. In terms of achieving ROI from SCP, a combined 24% of respondents say it took anywhere from six to 18 months (48% had yet to realize ROI or didn't know).
In most cases, inventory visibility (72% of respondents), procurement (64%), order management (62%), and demand planning (60%) rank as the top initiatives supported by companies' investment in supply chain management software. Other key initiatives include manufacturing, collaborative forecasting, planning and replenishment (CFPR), and collaboration with vendors and suppliers.
Managing your assets
A newcomer to this year's survey, asset management or "tracking" is playing a more important role in readers' warehousing and distribution operations. A dedicated application that's used to record and track an asset throughout its lifecycle—from procurement to disposal—asset tracking is currently in use at 28% of readers' operations and under consideration (within the next 24 months) at 19% of companies.
Most respondents (46%) have had their asset management solutions in place for less than five years and 44% upgraded those systems within the last five years. In terms of ROI, 27% say achieving that goal took six to 18 months while 37% have yet to reach that stage (or, don't know the answer).
In general, when adopting or implementing materials handling software applications, respondents say they are most challenged by integration with existing applications (44%), compatibility with existing systems (42%), doubt over potential process improvements (40%), and whether or not supply chain operational costs will be lower as a result of implementation (36%). Each of these percentages increased since 2016, and cast a doubt over just how well new applications integrate with existing solutions and live up to their expectations.
"This is a good example of where I would come down on the vendor side a bit," says Hobkirk, noting that while integration is "a little easier" than it was five or 10 years ago, but only if the process is documented properly, and if all of the data flows efficiently. "In the end, most interfaces and integrations always wind up needing some level of customization," he adds.

Reality or sales pitch?
Looking ahead, Hobkirk says his gut tells him that companies are taking a "cautious but optimistic" approach to warehousing and distribution software right now, and that most application categories are seeing at least some level of interest from companies across all industries.
"Companies are feeling better about these investments, but are also taking realistic views on what it's going to take to say, replace an existing WMS, and how much work and pain they'll have to withstand as an organization," says Hobkirk. "They're walking into it with a bit more of an informed view than they may have had five to 10 years ago and are more cautious about believing the software company's sales pitch."
---
Respondent demographics
Modern's annual Software Usage Study collected responses from 213 top materials handling professionals. To qualify, respondents must be personally involved in using, evaluating or purchasing software for their company's materials handling operations.
This year's respondents reflect management at all levels across both manufacturing and non-manufacturing vertical industries. Upper level management, meaning vice presidents, general managers and division managers, accounts for 38%, while 46% are responsible for managing their company's logistics distribution, warehouse, supply chain, operations or purchasing functions.
A number of vertical markets were represented, including food and beverage (10%), chemicals and pharmaceuticals (4%), automotive and transportation (6%), and computers and electronics (5%). On the non-manufacturing side, wholesale trade (11%), transportation/warehousing services (7%), retail trade (4%) and third-party logistics providers (5%) were among the respondents.

Click here to download the complete 2017 Software Survey.
Related Topics
Features
Magazine Archive
Technology
Software
Software Survey
Warehouse Control Systems
Warehouse Execution Software
Warehouse Operations
All topics
About the Author
Bridget McCrea, EditorBridget McCrea is a Contributing Editor for Logistics Management based in Clearwater, Fla. She has covered the transportation and supply chain space since 1996 and has covered all aspects of the industry for Logistics Management and Supply Chain Management Review. She can be reached at
[email protected]
, or on Twitter
@BridgetMcCrea
Latest products
Portable, self-driving stretch wrapper
Improved vision technology for AGVs. AGV's for Pallet management, 3D Sensors guided Automatic Guided Vehicles move pallets in the warehouse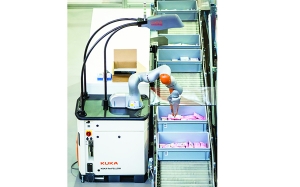 Robotic picking solution handles broad range of products. Robotics in the warehouse. Swisslog Robots for picking.
AGV battery can be charged in unit. The heavy-duty model BST undercarriage AGV tugger operates for a full 8-hour shift without a battery…
Latest materials handling news