2018 Productivity Achievement Awards
Modern's annual Productivity Achievement Awards honor companies that have made exceptional operational improvements through materials handling systems.

By
MMH Staff
·
March 13, 2018
Each year, Modern's Productivity Achievement Awards honor those companies that made outstanding operational improvements through materials handling systems and related information systems.
Modern's editorial team selects finalists from among the monthly system reports published by Modern in the previous year. A panel of industry experts then reviews the finalists in each category, selects a winner and explains his or her thoughts on what set each winning company apart.
Finalists in the Manufacturing and Warehousing/Distribution categories are recognized for their ability to provide outstanding customer service, quickly respond to changing business conditions, deliver orders that meet customer requirements, and improve operations. The Innovation category recognizes a company that successfully employed a solution that defies convention.
In addition to achievements in productivity throughput or efficiency, winners were also judged on how projects inside the four walls enable or complement the broader business objectives of the company.
This year's Productivity Achievement Awards judges were:

Jim Tompkins, chairman and CEO of supply chain consulting and implementation firm Tompkins International;
Jennifer Proctor, director of communications and publications for APICS; and
Norm Saenz, managing director at St. Onge Co.
The judges were split this year, and they noted remarkable results from each of the finalists. The winners offer models for success in their respective fields as well as for the future of the industry as a whole. For the full text of the honorable mentions and winners, visit mmh.com and search for "Year in Review: 2017 System Reports."
See the winning Productivity Achiever, Southern Glazer's Wine & Spirits here
More Productivity Solution
Related Topics
Magazine Archive
Other
Productivity Solution
Equipment
Conveyors & Sortation
Conveyors
Productivity Solution
All topics
Latest products
Portable, self-driving stretch wrapper
Improved vision technology for AGVs. AGV's for Pallet management, 3D Sensors guided Automatic Guided Vehicles move pallets in the warehouse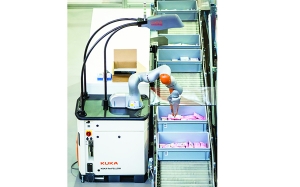 Robotic picking solution handles broad range of products. Robotics in the warehouse. Swisslog Robots for picking.
AGV battery can be charged in unit. The heavy-duty model BST undercarriage AGV tugger operates for a full 8-hour shift without a battery…
Latest materials handling news