Capitol Husting upgrades to 24-volt DC conveyor
Although only the first phase of the conveyor's installation has occurred, the overall time and labor necessary to handle orders has decreased by roughly 50%.

By
MMH Staff
·
October 12, 2017
In early 2016, Capitol Husting, a liquor and wine distributor, realized the materials handling system at its Milwaukee, Wis., distribution facility was outdated and inefficient. Looking to update its conveyor system, the distributor's controller, Tom Chandek, knew the renovations had to occur in phases and be coordinated properly, so it would not interfere with customer service.
The distributor also realized that a partner, who not only understood distribution but the wine and spirits business as well, was necessary. Customer orders require a combination of individual pieces (bottles) and cases to fulfill the orders, and the order is picked in sequence with the route of the truck for delivery points. The process requires a sequential staging of the customer's order on the conveyor and ready for loading to the trucks.
Since its old system caused product damage and lost revenue, Capitol Husting partnered with an engineering integration company to evaluate their issues and determine collaborative solutions. In doing so, they ultimately selected a 24-volt DC conveyor that provided on-demand, zero-pressure zone accumulation functionality. In addition, the conveyor offered zone accumulation on 100% of conveyor real estate, as well as integrated systems control, high energy efficiency and minimal installation time.
Choosing to install the new 24-volt DC conveyor in three phases, Capitol Husting has only completed the first phase so far. However, according to Chandek, product damage has already been eliminated—and the overall time and labor necessary to handle orders has declined by nearly 50%.
Hilmot
(800) 799-4492
Modo8
(414) 446-4606
Related Topics
News
Equipment
Conveyors & Sortation
Casebook 2017
Conveyors
Hilmot
All topics
Latest products
Portable, self-driving stretch wrapper
Improved vision technology for AGVs. AGV's for Pallet management, 3D Sensors guided Automatic Guided Vehicles move pallets in the warehouse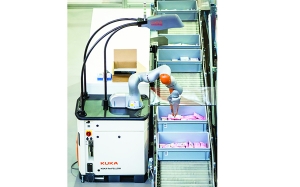 Robotic picking solution handles broad range of products. Robotics in the warehouse. Swisslog Robots for picking.
AGV battery can be charged in unit. The heavy-duty model BST undercarriage AGV tugger operates for a full 8-hour shift without a battery…
Latest materials handling news