Data-driven approach to managing ergonomics saves millions of dollars
"One-stop shop" for ergonomics assessments enables proactive improvements.

By
Josh Bond, Senior Editor
·
December 13, 2017
Founded in 1919, Cummins is a global power leader that designs, manufactures, sells and services diesel engines and related technology around the world. Through its network of 107 manufacturing plants, 600 company-owned and independent distributor facilities, and more than 5,000 dealer locations, the company spans into more than 160 countries and territories. In 2014, the company pursued a standardized global ergonomic assessment methodology.
The company now uses a software-as-a-service (SaaS) application (Humantech) for managing workplace ergonomics in production, assembly, distribution and service environments at many of its plants. According to corporate ergonomics specialist Chris Shieldsmith, the new system helped the company transition from using lagging indicators to leading ones.
"Looking in the rear-view mirror to develop business processes and improvements is reactive," Shieldsmith says. "Lost work days and injury data are important to know, but they shouldn't be the decision-making factors."
Instead, the company began predicting which events could occur and developed preventive programs such as providing ergonomics training to team members and completing risk assessments. The solution allows Cummins' employees to attend online training when they need it and at their convenience. On-demand training has kept the ball rolling.
"We don't have to wait months to teach people how to identify musculoskeletal disorder (MSD) risk factors," Shieldsmith says. "A new employee can attend ergonomics training the first week of his or her employment and be on the shop floor assessing and identifying high-risk jobs during the second week. The system has become a 'one-stop shop' for ergonomics."
Since implementing the system, Cummins has completed more than 7,000 assessments and has completed or planned more than 2,700 improvements. Its incidence rate dropped from 0.8 in 2013 to 0.12 in 2016, a savings of more than $4 million in efficiency and productivity and more than $12 million in injury cost avoidance.
"To secure funding, we had to show an attractive return on investment," Shieldsmith says. "The system's ability to identify and aggregate global MSD risk data has transformed the way we prioritize and mitigate MSD risk. The data-driven outputs have allowed us to make a strong business case and justify the necessary improvements to management. The built-in e-learning has given us the agility that is necessary to keep up with a global audience. In addition, the executive summary report has proven to be very useful for all audiences, as it brings the data together in a clean, visual package."
Today, the system is used at more than 230 Cummins facilities in more than 190 countries and territories.
Related Topics
News
Magazine Archive
Other
Productivity Solution
Warehouse
Ergonomics
Ergonomics
Humantech
Productivity Solution
All topics
About the Author
Josh Bond, Senior EditorJosh Bond is Senior Editor for Modern, and was formerly Modern's lift truck columnist and associate editor. He has a degree in Journalism from Keene State College and has studied business management at Franklin Pierce University.
Latest products
Portable, self-driving stretch wrapper
Improved vision technology for AGVs. AGV's for Pallet management, 3D Sensors guided Automatic Guided Vehicles move pallets in the warehouse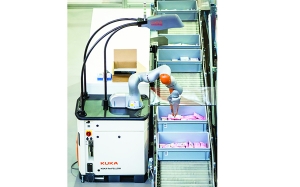 Robotic picking solution handles broad range of products. Robotics in the warehouse. Swisslog Robots for picking.
AGV battery can be charged in unit. The heavy-duty model BST undercarriage AGV tugger operates for a full 8-hour shift without a battery…
Latest materials handling news