Decisiv and TMW Systems expand relationship for asset maintenance
Enhanced partnership to provide TMW users with improved management and visibility to external service events.

By
MMH Staff
·
August 10, 2017
TMW Systems and Decisiv have agreed to expand their relationship in a partnership that will bring new integrations and solutions to users of TMW enterprise fleet maintenance management software.
Decisiv, a leading provider of a service relationship management (SRM) software platform for commercial vehicle, heavy equipment, and industrial asset service management, made the announcement in advance of this week's 2017 in.sight user conference + expo, hosted by PeopleNet and TMW.
"TMW has clearly established a leadership position and counts many leading fleets in North America as customers, all who can benefit from our closer working relationship," said Michael Riemer, vice president of product and channel and marketing at Decisiv. "Our joint vision is to develop a best-in-class service management experience by leveraging TMW's asset maintenance foundation and Decisiv's SRM-based collaboration platform and OEM-3rd party call center-service provider relationships."
With the new relationship, TMW users will have improved management and visibility to external service events, as well as the ability to leverage OEM relationships where permitted to capture build details, warranty status, recalls and service bulletins, diagnostics information, etc. within their internal shops.
"We are excited to take the next step in our relationship with Decisiv," said Scott Vanselous, executive vice president, TMW Systems. "The unique collaboration and communication capabilities of the Decisiv platform and their established OEM relationships will enable us to provide new and improved offerings to our current and future customers."
"Fleets who leverage the combined solution will have consistent, real-time visibility into all service events, as well as API-based access to diagnostic faults for any asset type (truck or trailer), across any make and telematics provider," Riemer said. "The secure exchange of real-time service status and work-order details will allow critical information to flow seamlessly between fleets, service providers, and OEMs. This improves asset availability and reduces costs without jeopardizing access to confidential information."
Related Topics
News
Warehouse
Technology
Data Capture
Equipment
Lift Trucks
Asset Management
Decisiv
Forklifts
Lift Trucks
TMW Systems
All topics
Latest products
Portable, self-driving stretch wrapper
Improved vision technology for AGVs. AGV's for Pallet management, 3D Sensors guided Automatic Guided Vehicles move pallets in the warehouse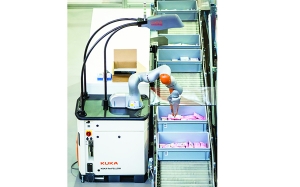 Robotic picking solution handles broad range of products. Robotics in the warehouse. Swisslog Robots for picking.
AGV battery can be charged in unit. The heavy-duty model BST undercarriage AGV tugger operates for a full 8-hour shift without a battery…
Latest materials handling news