Get the lay of the land with Modex 2018 show map
Get the lay of the land around the Georgia World Congress Center for Modex 2018 and the Georgia Logistics Summit, scheduled to be held April 9-12, 2018.

By
MMH Staff
·
January 19, 2018
The Georgia World Congress Center welcomes more than 28,000 visitors to Modex 2018—the largest manufacturing and supply chain expo of the year scheduled to be held April 9-12, 2018.
The show, in its fourth-year, has expanded into two halls—B and C—and again welcomes the Georgia Logistics Summit as a co-located show. The show gives attendees an opportunity to explore the solutions that will keep their supply chains moving forward throughout a total of 300,000 square feet.
With more than 850 exhibitors, plus an expanded agenda of educational and networking offerings, attendees can maximize their time and easily connect with the information and tools they need to tackle today's challenging, always-on business environment.
As always, the Modex show floor is divided into different solutions centers—including two new ones this year—to help visitors navigate.

They include:
Smart City Logistics & Connected Supply Chain (new): Housed in Hall C, this solutions center features the technologies that enable Industry 4.0 and Industrial Internet of Things (IIoT), including sensors, software, Cloud computing, driverless vehicles, robotics and automation, predictive analytics, artificial intelligence, omni-channel fulfillment, augmented reality wearable and mobile systems.
Transportation & Logistics (new): Located in Hall C, this solutions center showcases options for road, rail, sea and air freight transportation, as well as parcel delivery, security, autonomous vehicles, robotics, sensors, supply chain management software, third-party logistics and reverse logistics.
Manufacturing & Assembly: Split between Halls B and C, this solutions center includes automated assembly support, intelligent devices, robotics, ergonomic and safety equipment, workstations, light-rail and other assembly-assist equipment and systems for the manufacturing environment.
Fulfillment & Delivery: Located in Hall B, this center gathers solutions for traditional or e-commerce order fulfillment, order picking and packaging, third-party logistics, warehousing, distribution or transportation.
Information Technology (IT): Found at the entrance to Hall B, this solutions center highlights supply chain software solutions, RFID, auto-ID and data collection, transportation management systems, manufacturing execution systems, logistics execution systems, enterprise resource planning and order management systems.
The Knowledge Center: With theaters in Hall B and C, this solutions center offers resources in on-show floor theaters to educate and build awareness of what the materials handling and logistics industry has to offer the supply chain as a whole.

An interactive map can be found on the Modex 2018 website.
What's Related in Modex
Free seminars on both Modex 2018 show floors share materials handling, supply chain knowledge
Think you know everything there is to know about how materials handling makes supply chains work? Not so, according to the experts presenting more than 130 free on-floor educational sessions.
Modex 2018: International Visitors Center greets, assists more than 3,000 attendees
With the continual expansion of the global economy—and the supply chain reach required to support it— Modex 2018 expects more than 3,000 attendees from 110 countries.
Modex 2018: Positive vibes abound
By all reports, the majority of the U.S. leading economic indicators are pointing to a fairly robust year, as manufacturing is growing; consumer confidence continues to climb; and the National Retail Federation just projected 2018 retail sales to head up 3.8% to 4.4%, adding that e-commerce sales are…
2018 MHI Innovation Award finalists announced
Automated truck loading, virtual reality and good old-fashioned labels are among the top selections.
MHI honors original products, solutions with annual Innovation Awards
On Wednesday, April 11, during MHI Industry Night with Jim Gaffigan, the winners of the annual MHI Innovation Awards will be announced.
More Modex
Related Topics
News
Events
MODEX
MHI
Modex
All topics
Latest products
Portable, self-driving stretch wrapper
Improved vision technology for AGVs. AGV's for Pallet management, 3D Sensors guided Automatic Guided Vehicles move pallets in the warehouse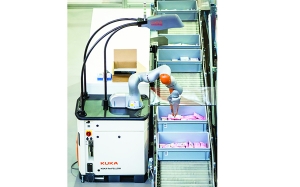 Robotic picking solution handles broad range of products. Robotics in the warehouse. Swisslog Robots for picking.
AGV battery can be charged in unit. The heavy-duty model BST undercarriage AGV tugger operates for a full 8-hour shift without a battery…
Latest materials handling news