HighJump unveils top four trends for supply chain evolution
Digital transformation is key to streamlining workflow and exceeding customer expectations.

By
MMH Staff
·
March 14, 2017
HighJump, a global provider of supply chain network solutions, has announced the top four trends that will help supply chain professionals digitally transform their workflows to stay at the forefront of today's competitive landscape.
At HighJump's Elevate User Conference, chief strategy officer Ross Elliot unveiled what the company has outlined as its top four digital trends for supply chain companies to follow in 2017. These trends are based on ongoing research to meet the unique needs of each of HighJump's more than 15,000 customers worldwide.
According to HighJump, supply chain professionals must constantly evolve their offerings to meet customer demands for simpler, faster and more profitable delivery of goods. Digital transformation is pivotal to this. To tap into the full potential of digitization, supply chain executives must enhance their workflows with solutions that provide the following:
● Human design: Solutions should cater to the user. Choose apps, software and devices that eliminate workflow complexities and up productivity by providing the look and feel of consumer-grade devices.
● Actionable analytics: Move beyond basic batch analytics reports. Place your trust in tools that sort through big data and provide clear insight on how to enhance processes.
● Unified commerce: There is no single path to providing the personalized experience customers demand when ordering goods. Find solutions that seamlessly integrate with other tools to assure staff always has the information available to deliver the quality experience customers expect.
● Smart devices: Seek out devices that offer the latest features, such as voice control and chatbots, to automate time-consuming data entry and searches.
HighJump offer supply chain professionals, ranging from large enterprises to SMBs, solutions to rapidly modify workflows to meet the demands of any industry through adaptable, connected solutions that fit any stage of the process. This spans warehouse management, business integration, transportation management and direct store delivery (DSD).
In its 14th year, Elevate brought together more than 700 supply chain professionals from across the globe.
Related Topics
News
Technology
Automation
Software
HighJump Software
Supply Chain
Supply Chain Software
Warehouse Management Systems
All topics
Latest products
Improved vision technology for AGVs. AGV's for Pallet management, 3D Sensors guided Automatic Guided Vehicles move pallets in the warehouse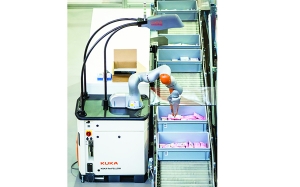 Robotic picking solution handles broad range of products. Robotics in the warehouse. Swisslog Robots for picking.
AGV battery can be charged in unit. The heavy-duty model BST undercarriage AGV tugger operates for a full 8-hour shift without a battery…
Automated robotic truck unloader/loader
Latest materials handling news