June retail sales data is largely flat
June retail sales data issued today by the United States Department of Commerce and the National Retail Federation (NRF) was somewhat muted.

By
Jeff Berman, Group News Editor
·
July 14, 2017
June retail sales data issued today by the United States Department of Commerce and the National Retail Federation (NRF) was somewhat muted.
U.S. retail sales contribute around 14 percent, or $2.6 trillion to U.S. GDP. That is a major number and clearly cannot be overlooked, especially when looking at how closely connected retail and consumer activity is tied to the freight transportation and logistics sectors on so many fronts, including trucking, intermodal, parcel, ocean, air, e-commerce, and warehousing and distribution.
Commerce reported a 0.2% decrease in retail sales from May to June at $473.5 million and a 2.8% annual increase compared to June 2016. And total retail sales from April to June were up 3.8% annually, according to Commerce. Nonstore retailers, which includes a heavy focus on e-commerce, reported a 9.2% annual increase in June.
The NRF reported that June retail sales, excluding automobiles, gas stations, and restaurants, were "essentially unchanged" from May to June, and were up 3.2% annually on an unadjusted annual basis. Nonstore retail sales rose 0.4% compared to May and saw a 9.9% annual increase.
"Deflating pricing in retail continues to aggravate measurements of spending in June. Consumers continue to make purchases, but total sales reflects depressed prices on the volume of goods purchased," NRF Chief Economist Jack Kleinhenz said in an NRF bog posting. "Nonetheless, consumer fundamentals remain solid, with no expectations for spending to cool off in the remaining summer months. Given the strength of consumer sentiment and other indicators – housing prices, net worth and use of credit – it's puzzling to see consumer spending move at a slower pace."
This data follows recently announced 2017 retail sales projections from the NRF, calling for an annual gain in the 3.7-to-4.2 percent range, with online and other non-store/online sales (which NRF includes in its over all number) to head up between 8 and 12 percent.
While not a direct comparison, NRF's 2017 projection would top the 3.3 percent annual gain in retail sales from 2015 to 2016, based on data issued by the United States Department of Commerce.
As previously reported, the NRF offered up various data points supporting its thesis for retail sales growth in 2017, including:
-the economy is expected to gain an average of approximately 160,000 jobs a month, which it said is down slightly from 2016 but consistent with labor market growth;
-unemployment is expected to drop to 4.6 percent by the end of the year; and
-economic growth is likely to be in the range of 1.9 to 2.4 percent
And it offered up a caveat in that the "forecast is a baseline and does not take into account new fiscal measures pending in Washington."
That is important to consider when considering, as NRF President Matthew Shay pointed out, that 2016 finished with strong momentum as jobs and income saw growth, coupled with debt staying on the lower side. But the optimism is quelled to a degree, he noted, in that while consumers appear to have the resources to spend more than in the past, there is likely to be some hesitancy until there is more clarity in regards to policy changes regarding taxes, trade, and other issues.
With consumer spending accounting for around two-thirds of all economic activity, that commensurate growth, or projected growth, is contingent on consumers being able to change behavior, or, in other words, consistently spend more.
IHS Markit Executive Director Chris Christopher wrote in a research note that this was not a very good report, but upward revisions to May's retail sales [from -0.3% to -0.1% in May] used to estimate consumer spending and relatively low inflation put his firm's real consumer spending forecast for the second quarter at 2.8%.

"Consumer spending will remain an engine of US economic growth, supported by rising employment, real disposable incomes, and household wealth," he wrote. "Income tax cuts in 2018 will likely fuel an acceleration in spending growth and a hike in the personal saving rate. The traditional "back-to-school" shopping season has become less demarcated in recent years due to the proliferation of year-round flash sales that accompanies greater access to online shopping. The third year running of Amazon Prime Day (mid-July) seems to be pulling August brick-and-mortar sales into July online sales. The summer months remain an important bellwether for what's to come over the holidays, which are by far the most important shopping season for retailers. Our forecast calls for growth of 4.3% in back-to-school retail sales this year compared to last year, which would be the strongest growth since 2014. We define back-to-school sales as not-seasonally adjusted retail sales excluding motor vehicles, gasoline and food services for July through August."
Related Topics
News
All topics
About the Author
Jeff Berman, Group News EditorJeff Berman is Group News Editor for
Logistics Management
,
Modern Materials Handling
, and
Supply Chain Management Review
. Jeff works and lives in Cape Elizabeth, Maine, where he covers all aspects of the supply chain, logistics, freight transportation, and materials handling sectors on a daily basis.
Contact Jeff Berman
Latest products
Portable, self-driving stretch wrapper
Improved vision technology for AGVs. AGV's for Pallet management, 3D Sensors guided Automatic Guided Vehicles move pallets in the warehouse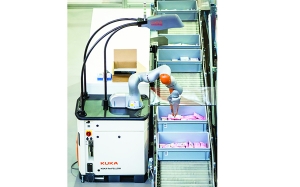 Robotic picking solution handles broad range of products. Robotics in the warehouse. Swisslog Robots for picking.
AGV battery can be charged in unit. The heavy-duty model BST undercarriage AGV tugger operates for a full 8-hour shift without a battery…
Latest materials handling news