Lift Truck Tips: Simple or state-of-the-art fleet, safety comes first
Technology is advancing at an unprecedented pace, and a focus on safety is the best way to keep up.

By
Josh Bond, Senior Editor
·
December 13, 2017
Every facility is focused on achieving the highest levels of safety, but no two facilities face the same challenges. That's why Dave Norton, vice president of corporate quality and customer care at The Raymond Corp., says his company's policy is to listen before offering any suggestions.
"That said, a fairly common response is that the customer is looking for better visibility—what operators are doing, fleet utilization and how those factors might impact overall operations," Norton says.
Telematics solutions are an obvious approach and can uncover things, like congestion, that are not otherwise apparent. Of course, telematics can also help determine whether a facility has enough—or too many—chargers, equipment and operators. The number of potential improvements can be overwhelming, but starting with a focus on operator accountability is a good way to dodge the "drinking from the fire hose" effect while reaping maximum benefits from data collection.
"The entire industry is going toward data and being able to use it to make good decisions that help everybody, from operators to trainers and technicians," Norton says. "It feels like the pace of change in materials handling is moving faster than it has in 30 years—the speed at which technologies, data and training are all coming together."
Given the rapid advances, perhaps the biggest danger is assuming a fleet and its operators are already at optimal performance.
"Even a customer who tells us they have a good handle on things is typically shocked by the amount of waste in their processes when they connect to a telematics system," Norton says. "Operators quickly realize they can't do the things they did in the past."
He offers the example of a customer who gained visibility into their operating environment and noticed their overall forklift performance was below expected levels. They discovered operators were driving over curbs and were able to address the issue with operators. In addition to operator behavior, warehouse conditions can be uncovered with telematics by identifying reduced performance resulting from the facility itself; for example some expansion joints are too big, or there may be cracks in the floor reducing overall productivity.
"With telematics, now the customer can see and fix those problems," Norton says. "As for visibility into operator behaviors, customers appreciate improved accountability. Nobody can simply blame something on the third shift anymore."
Norton says virtual reality training tools are emerging as a powerful way to help establish or reinforce safe driving habits. By immersing operators in real-life operating environments and capturing detailed records of their performance, customers can train, remediate or further develop operator skills.
"Many customers are very excited to allow associates the opportunity to advance," Norton says. "It's a tool to learn a new lift truck and be ready when the opportunity arises. Studies show it's a great way to complement classroom training."
Related Topics
News
Magazine Archive
Other
Lift Truck Tips
Warehouse
Safety
Equipment
Lift Trucks
Lift Truck Tips
Raymond
Safety
All topics
About the Author
Josh Bond, Senior EditorJosh Bond is Senior Editor for Modern, and was formerly Modern's lift truck columnist and associate editor. He has a degree in Journalism from Keene State College and has studied business management at Franklin Pierce University.
Latest products
Portable, self-driving stretch wrapper
Improved vision technology for AGVs. AGV's for Pallet management, 3D Sensors guided Automatic Guided Vehicles move pallets in the warehouse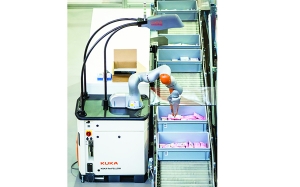 Robotic picking solution handles broad range of products. Robotics in the warehouse. Swisslog Robots for picking.
AGV battery can be charged in unit. The heavy-duty model BST undercarriage AGV tugger operates for a full 8-hour shift without a battery…
Latest materials handling news