MaxLite opens distribution center in Indiana
Expansion enables two-day shipping of MaxLite products nationwide.

By
MMH Staff
·
August 10, 2017
MaxLite, a leading global manufacturer and marketer of energy-efficient lighting solutions, has announced the opening of a new regional distribution center in Greenwood, Ind.
With the addition of the Indiana location to its distribution network, MaxLite is able to offer two-day shipping of its LED products to customers nationwide.
Located at 998 Gerdt Court in Greenwood, the 66,000-square-foot-facility stocks LED lamps and luminaires from MaxLite's portfolio of indoor and outdoor products for commercial, industrial and residential applications. The center offers will call service, in addition to rapid shipping and assembly capabilities.
"Our new Indiana distribution center enables MaxLite to meet the growing needs of our customers in the central United States in the fastest and most efficient manner," said vice president of operations Paul Shaskan. "We selected the Greenwood location because it lies within a well-established warehouse distribution corridor, with immediate access to primary freight carriers. We recruited experienced management staff from major warehouse distribution centers in the region, and with the support of our dedicated customer service team, MaxLite is able to provide 24- to 48-hour service on in-stock items."
The Indiana location joins distribution centers in New Jersey and California, giving MaxLite full quick-ship coverage of the United States.
Related Topics
News
Warehouse
Energy
Lighting
Energy
Environmental
Ergonomics
LEDs
MaxLite
Safety
Warehouse Operations
All topics
Latest products
Portable, self-driving stretch wrapper
Improved vision technology for AGVs. AGV's for Pallet management, 3D Sensors guided Automatic Guided Vehicles move pallets in the warehouse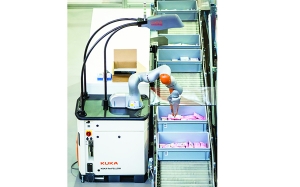 Robotic picking solution handles broad range of products. Robotics in the warehouse. Swisslog Robots for picking.
AGV battery can be charged in unit. The heavy-duty model BST undercarriage AGV tugger operates for a full 8-hour shift without a battery…
Latest materials handling news