Menasha Corporation acquires ARI Packaging
Leading corrugated and plastic packaging manufacturer acquires specialist in contract manufacturing, custom assembly, repacking, and food product packaging and fulfillment for consumer packaged goods companies.

By
MMH Staff
·
September 15, 2017
Menasha Corporation, a leading provider of graphic consumer packaging, merchandising solutions, contract packaging and fulfillment services, has acquired ARI Packaging of Alsip, Ill., a supply chain service provider in the retail merchandising assembly and primary/secondary co-packaging industry.
The business will operate as part of Menasha Packaging Company, a subsidiary of Menasha Corporation.
ARI Packaging is a supplier of contract packaging and fulfillment services for merchandising packaging and displays used by consumer packaged goods (CPG) companies. Founded in 2000, the company employs 97 and operates five facilities in three states: Illinois, Virginia, and California.
"We're excited to have ARI Packaging on our team, and we welcome the expanded services we can offer customers, particularly in the e-commerce arena," said Mike Waite, president of Menasha Packaging Company. "ARI's capabilities align with Menasha Packaging's full range of packaging products and related services that help our customers promote, brand and sell their goods online or in a retail store."
Related Topics
News
Warehouse
Packaging
Menasha
Packaging
Retail
All topics
Latest products
Portable, self-driving stretch wrapper
Improved vision technology for AGVs. AGV's for Pallet management, 3D Sensors guided Automatic Guided Vehicles move pallets in the warehouse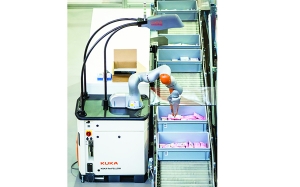 Robotic picking solution handles broad range of products. Robotics in the warehouse. Swisslog Robots for picking.
AGV battery can be charged in unit. The heavy-duty model BST undercarriage AGV tugger operates for a full 8-hour shift without a battery…
Latest materials handling news