MHI honors original products, solutions with annual Innovation Awards
On Wednesday, April 11, during MHI Industry Night with Jim Gaffigan, the winners of the annual MHI Innovation Awards will be announced.

By
Sara Pearson Specter
·
February 19, 2018
On Wednesday, April 11, during MHI Industry Night with Jim Gaffigan, the winners of the annual MHI Innovation Awards will be announced. That gives Modex attendees plenty of time to drop by the booths of the 12 finalists in the three categories—Best New Innovation, Best Innovation of an Existing Product and Best IT Innovation—to check out the entries beforehand.
"We received 111 total submissions spread across the three categories, and each one could have qualified as a finalist," said Greg Baer, director of sales for show sponsor MHI. "Every year I am amazed by the innovative solutions our exhibitors bring to the show floor that will shape and disrupt the supply chains of today. The number one reason that attendees come to Modex is to see new products. The Innovation Awards participants have taken a big first step in making sure that attendees are aware of their solutions."
To narrow down each category to four finalists prior to the show, the submissions were judged by a committee of industry experts. "The volunteer judges represent five different companies: The Home Depot, Mohawk Industries, Champion Petfoods, Group Deschenes, and 3M," Baer continued.
Finalists in the "Best New Product" category are:
• 6 River Systems (Booth B4978) – 6RS Collaborative Fulfillment Solution
• Ancra Systems B.V. (Booth B966) – SkateLoader
• The Raymond Corp. (Booth B3747a) – Raymond Virtual Reality Simulator
• suitX (Booth B1474) – MAX Systems Industrial Exoskeleton
Finalists in the "Best Innovation of an Existing Product" category are:
• Caljan Rite-Hite (Booth B1647) – Express Snoot
• Elokon GmbH (Booth B1762) – ELOshield Proximity Detection System
• ID Label Inc. (Booth B4257) – Clean Release Removable Warehouse Barcode Label
• Komar Industries (Booth C2551) – Auger-Pak
Finalists in the "Best IT Innovation" category are:
• LogistiVIEW (Booth C2272a) – Enterprise Augmented Reality Computing
• The Raymond Corp. (Booth B3747a) – Pick2Pallet LED Light System
• Ubimax Inc. (Booth B2626) – Frontline Creator
• Yard Management Solutions (Booth C1839) – Eagle Eye Yard Management Software
The contest defines innovation as a new product, product line, technology or service, new application of existing products or technology, that creates quantifiable and sustainable results in terms of return on investment (ROI), cost savings and customer satisfaction.
Modex 2018 is scheduled to be held April 9-12 at the Georgia World Congress Center in Atlanta. The tradeshow will showcase the latest manufacturing, distribution and supply chain solutions in the materials handling and logistics industry. Modern's complete coverage of the show.
Related Topics
News
Events
MODEX
MHI
Modex
All topics
About the Author
Sara Pearson SpecterSara Pearson Specter has written articles and supplements for Modern Materials Handling and Material Handling Product News as an Editor at Large since 2001. Specter has worked in the fields of graphic design, advertising, marketing, and public relations for nearly 20 years, with a special emphasis on helping business-to-business industrial and manufacturing companies. She owns her own marketing communications firm,
Sara Specter, Marketing Mercenary LLC
. Clients include companies in a diverse range of fields, including materials handing equipment, systems and packaging, professional and financial services, regional economic development and higher education. Specter graduated from Centre College in Danville, Ky. with a bachelor's degree in French and history. She lives in Oregon's Willamette Valley where she and her husband are in the process of establishing a
vineyard and winery
.
Latest products
Portable, self-driving stretch wrapper
Improved vision technology for AGVs. AGV's for Pallet management, 3D Sensors guided Automatic Guided Vehicles move pallets in the warehouse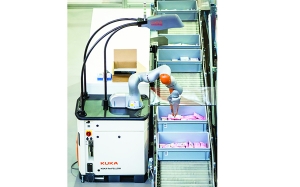 Robotic picking solution handles broad range of products. Robotics in the warehouse. Swisslog Robots for picking.
AGV battery can be charged in unit. The heavy-duty model BST undercarriage AGV tugger operates for a full 8-hour shift without a battery…
Latest materials handling news