Modex 2018: MHI to preview 2018 Annual Industry Report


By
MMH Staff
·
February 19, 2018
MHI will preview the 2018 Annual Industry Report during the April 11 Keynote at MODEX. During the keynote, Scott Sopher, the principal with Deloitte Consulting LLP's Supply Chain practice will join George W. Prest, CEO of MHI to present the findings of the 2018 report that details the 11 innovations and trends that are driving the shift from physical to digital supply chains, including how to overcome key barriers to successful implementation. This is the fifth MHI Annual Industry Report released by MHI in collaboration with Deloitte.

Sopher and Prest will be joined by a panel of manufacturing and supply chain professionals to discuss the real-world significance of the report findings.
Panelists include:
—Randy Bradley, Assistant Professor of Information Systems and Supply Chain Management, University of Tennessee
—Kevin Vliet, VP Supply Chain Engineering, Automation and Design, Target
—Barbara Ivanov, Chief Operating Officer and Director, University of Washington Urban Freight Lab
—Kevin Condon, Director Engineering & Network Strategy, Kroger

The keynote will take place on April 11 at 8:45 AM in the Thomas Murphy Ballroom of the Georgia World Congress Center in Atlanta.
Modex 2018 is scheduled to be held April 9-12 at the Georgia World Congress Center in Atlanta. The tradeshow will showcase the latest manufacturing, distribution and supply chain solutions in the materials handling and logistics industry. Modern's complete coverage of the show.
Related Topics
News
Events
MODEX
MHI
Modex
All topics
Latest products
Portable, self-driving stretch wrapper
Improved vision technology for AGVs. AGV's for Pallet management, 3D Sensors guided Automatic Guided Vehicles move pallets in the warehouse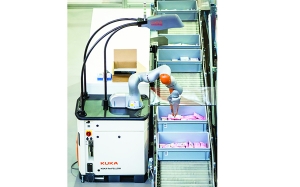 Robotic picking solution handles broad range of products. Robotics in the warehouse. Swisslog Robots for picking.
AGV battery can be charged in unit. The heavy-duty model BST undercarriage AGV tugger operates for a full 8-hour shift without a battery…
Latest materials handling news