New conveyors improve food maker's process in less space
Vertical reciprocating conveyor adds flexibility with reduced footprint and maintenance.

By
Josh Bond, Senior Editor
·
March 8, 2018
Founded in 1921, UTZ Quality Foods is the largest independent, privately held snack brand in the United States, producing more than 3.3 million pounds of snacks per week (about half of which are potato chips) while operating more than 900 company-owned routes. To improve operational efficiency at its chip manufacturing facility in Hanover, Pa., the company installed a vertical reciprocating conveyor (VRC).
The unique VRC solution (Honeywell Intelligrated USS) consists of eight units that fit in small areas and avoid existing structural columns. Each unit conveys cartons of chips from a 36-inch elevation to a discharge height of 19.5 feet. A two-zone, zero-pressure accumulation conveyor shelf enables a Z-style configuration, meaning products of varying sizes enter, accumulate and exit on opposite sides of the conveyor modules. This optimizes the system duty cycle, transporting one or two packages per cycle depending on product length to boost throughput and minimize the stress on system components.
Motors are mounted near the bottom of each VRC unit to eliminate the need for any overhead maintenance activities, improving ergonomics and safety. The standard lightweight windows allow for product visibility and minimize visual obstructions from each 20-foot tall VRC within the facility. According to the facility manager, the VRC system allows UTZ to reliably handle carton sizes ranging from 9 inches to 42 inches in a small footprint, providing a steady stream of product to fuel downstream processes and seamlessly integrate with auxiliary systems.
What's Related in Conveyors
AuAl Machine
Automated robotic truck unloader/loader
CEMA reports 2017 shipments up nearly 16%, an increase of $1.85 billion
Officers elected at annual meeting, including Ned Thompson as new president of CEMA.
Duravant acquires QC Industries
Acquisition expands Duravant's material handling product offerings in North America.
Conveyors & sortation: Carrying the e-commerce burden
In a case-quantity world, conveyor was king. E-commerce, poly bags and the need for incredible flexibility posed a brief challenge, but convey and sort technologies have reclaimed the crown.
2018 Productivity Achievement Awards
Modern's annual Productivity Achievement Awards honor companies that have made exceptional operational improvements through materials handling systems.
More Conveyors
Related Topics
News
Magazine Archive
Other
Productivity Solution
Warehouse
Inventory & Picking
Equipment
Conveyors & Sortation
Conveyors
Honeywell Intelligrated
Vertical Lift Module
All topics
About the Author
Josh Bond, Senior EditorJosh Bond is Senior Editor for Modern, and was formerly Modern's lift truck columnist and associate editor. He has a degree in Journalism from Keene State College and has studied business management at Franklin Pierce University.
Latest products
Portable, self-driving stretch wrapper
Improved vision technology for AGVs. AGV's for Pallet management, 3D Sensors guided Automatic Guided Vehicles move pallets in the warehouse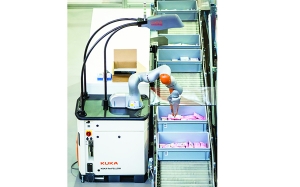 Robotic picking solution handles broad range of products. Robotics in the warehouse. Swisslog Robots for picking.
AGV battery can be charged in unit. The heavy-duty model BST undercarriage AGV tugger operates for a full 8-hour shift without a battery…
Latest materials handling news