New Equipment Ensures Effective Dock Operations
From vehicle restraints and levelers to safety systems, dock equipment is making strides to deliver even higher levels of productivity, safety and control.

By
MMH Staff
·
October 11, 2017
It's a little too easy to take docks for granted. After all, they are the gateway into and out of your facility with tens of thousands of trips made annually across the average dock.
That said, the three bywords of effective dock operations are productivity, safety and security. Let one of those three become substandard, and everyone will wonder fairly quickly: What's wrong over at Dock 17? Consider these three forces that affect docks at every facility.
Productivity. "Everyone is looking to get congestion away from the dock," says Louis Coleman, director of sales and marketing at Autoquip.
Safety. The American Supply Association reports that 25% of all industrial accidents occur at the loading dock.
Security. The publication Trucking Info reports that 27% of all cargo thefts occur at facilities. And, those thefts likely didn't go out the front door.
In the end, dock equipment plays a major role in improving productivity, increasing safety and limiting thefts. Nevertheless, "a good portion of docks could use some upgrading," says Walt Swietlik, director of customer relations and sales support at Rite-Hite.

One new dock safety system uses motion sensors to detect people or equipment moving in the trailer, projecting a blue light on the leveler to make others aware.
---
Fortunately, you now have options that weren't available as recently as a few months ago. These range from improved vehicle restraints to levelers that store vertically as well as abrasion-resistant seals and shelters. Other new developments include safety warning systems and more integrated control systems to manage dock operations.
As if to reinforce the importance of what happens at docks, OSHA issued new rules earlier this year to "update, align and provide greater flexibility" in walking-working surfaces and fall protection standards.
Dock productivity
Clearly, all docks are not alike. The majority of docks are built into the walls of distribution centers and other facilities, typically with a leveler, vehicle restraint, seal or shelter, and related controls.
But there are also many non-traditional docks at retail outlets and other small businesses that access ground-level buildings. These dock lifts use a scissor mechanism to adjust to the different heights required to load/unload trucks of varying sizes.
About 80% of scissor-type dock lifts have a 5,000-pound capacity, which is more than sufficient to accommodate standard-sized loads moved by pallet jacks and walkies. The typical volume is around 20 deliveries a month, says Pete Norden, dock lift program manager at Southworth Products. He adds that some dock lifts are bolted in place while many are free standing without anchors.
According to Coleman at Autoquip, there is growing demand for customized dock lifts to maximize productivity such as the one pictured on page 40 at a mall retailer. He points out that with the urbanization of retail, these custom dock lifts are often teamed with vertical reciprocating conveyors (VRC). The lifts limit congestion getting goods off a delivery truck while the VRCs limit congestion in the dock area by moving goods to a mezzanine or higher floor for unpacking.
Over at the larger facilities, there's action in dock levelers as well as seals/shelters and controls to help raise productivity. There's even a bit of an innovation that will help speed up commissioning and maintenance of systems.
Earlier this year, Systems Inc. (McGuire, Poweramp and DLM) introduced a fully powered dock leveler that requires no electricity in the dock pit. This air-powered leveler uses plant air or a dedicated compressor to operate, says Brett Lindstrom, marketing and communications director at Systems Inc. An air-bellows system raises and lowers the leveler. The equipment allows users to upgrade from mechanical to automatic levelers at a relatively low cost.
Over at Entrematic (Serco and Kelley), the new options are seals and shelters with highly abrasion-resistant fabric. This fabric is documented to be 10 times more abrasion resistant than standard fabrics, says Rich Schlesinger, manager U.S. distribution sales loading dock products.
An integrated system controls multiple dock devices from a single control panel for a single dock location.
The problem with standard fabric, Schlesinger explains, is not trailers tearing the material. Instead, most damage occurs because of repeated up and down movement of trailers while they are pressed against the seal. This is what makes abrasion resistance important. Most trailers move up and down 3 to 4 inches with each trip across the leveler, causing wear. Schlesinger says independent testing shows the new fabric will stand up to 40,000 cycles.
For seals, the fabric runs the entire length of the unit. On shelters, it is limited to high wear points such as the corners and bottom side of the shelter that the trailer backs up against.
In addition, QR codes are now standard on all Entrematic dock equipment. The development stands to expedite information management about dock equipment and save quite a few trees. The code is laser etched into a black laminated serial tag attached to all dock equipment. Using a QR code app on a phone or tablet, a facility manager scans the code, downloading all commissioning and maintenance guidelines previously in print manuals. Schlesinger estimates the average printed manual runs 50 pages.
For equipment already in the field, Entrematic offers a hyperlink for the technician's smart phone. This allows that information to be downloaded to the phone, bypassing printed manuals altogether for equipment without QR codes.
Dock safety
Home to heavy loads, moving equipment and pedestrians, docks are not just busy areas, they are potentially dangerous ones. That keeps safety high on the minds of suppliers and facility managers.
Early this year, OSHA issued a final rule to update, align and provide greater flexibility in its walking-working surfaces and fall protection standards. The new rule "incorporates advances in technology, industry best practices, and national consensus standards to provide effective and cost-efficient worker protection."
While a broad industry standard for fall protection covers industries from window washers to chimney sweeps, that same rule also pertains to dock areas. The emphasis here is on areas with more than a 4-foot drop between levels such as the dock to the driveway outside. In the new rule, OSHA defines fall protection as "any equipment, device or system that prevents a worker from falling from an elevation or mitigates the effect of such a fall." To understand specifically what that means at your facility, contact your dock equipment supplier.
Fabric that is 10 times more abrasion resistant than standard fabrics extends the life of seals and shelters.
Beyond regulations, control systems and sensors team with operating dock equipment to keep docks safe. Traditionally, dock controls have been limited to a monitor or panel for each type of equipment at the dock. But now, Rite-Hite has released an integrated system that controls multiple dock devices at a single dock location into a central panel. There is also talk of future systems that would centrally control multiple docks.
There's still quite a different class of safety system emerging, too. These systems combine motion-sensors with light and audible alarms to detect and communicate danger in the dock area, says Swietlik. One system uses motion-sensors to trigger a blue light that projects onto the leveler when pedestrians or equipment are detected inside the trailer.
Another system outside the dock door detects the motion of a trailer backing into the dock area. Both a visual and audible alarm alert workers and other pedestrians of the trailer's approach.
A third system connected to the vehicle restraint provides an alert when a worker or lift truck enters an unsecured trailer. The warning system combines a flickering blue light with an audible alarm along with a lighting system that turns from white light to red.
A new vehicle restraint from Systems Inc. maximizes safety when loading/unloading intermodal and container trailers with cover plates. An internal safety mechanism locks the hook into position when force is applied. It also eliminates the need for the trailer driver to reverse the trailer to disengage when leaving the dock.
It's worth noting that all suppliers indicated strong growth in vehicle restraints recently. Systems Inc. puts restraint growth at 14% annually for the past five years, which is considerably above growth of levelers. "People are now paying more attention to operational safety," says Lindstrom.
Dock security
Traditionally, theft prevention comes down to tight security at the dock door itself. Controls have long played an important role here. They will continue to do so especially as the integration of controls at multiple docks gains traction.
By scanning QR codes using a phone or tablet, facility managers can download commissioning and maintenance guidelines, eliminating the need for printed manuals.
But theft prevention is now only part of the security profile. Security now also includes environmental and sanitation control. The expansion is especially evident in the food and beverage industries, which have made a big push lately to optimize their dock operations.
In fact, it is now common for these companies to request third-party audits of their dock operations, says Swietlik. These include not just physical security, but an assessment of cleanliness and environmental seals.
Refrigerated and cold storage facilities have obvious interests in these audits. But so does any facility that requires internal temperature control. The Loading Dock Equipment Manufacturers (LODEM) group at the trade association MHI offers a loading dock seal energy calculator to help you determine the energy usage at your dock.
Key equipment here includes dock doors as well as seals and shelters. Rite-Hite's latest introduction is a shelter that blocks daylight and seals gaps at the top, corners and sides of a trailer at the loading dock.
But, levelers are important, too. Swietlik says the biggest beneficiary of increased environmental control so far has been vertical storing levelers. "There's been a 42% increase in sales of these units since 2007," he says.
Driving that growth is the design of the units. Vertical storage allows a truck to back into the dock and open its doors before the leveler is lowered into position. This is the reverse of standard dock leveler and trailer interactions. As a result, the trailer is in place up against the restraint and seal/shelter before the dock door is opened, keeping a tight environmental seal and reducing unnecessary energy loss.
Companies mentioned in this article:
Autoquip
Entrematic
Rite-Hite
Southworth Products
Systems Inc.
Related Topics
Features
Magazine Archive
Other
Equipment Report
Equipment
Loading Dock Equipment
Dock Equipment
Entrematic
Rite-Hite
Systems Inc
All topics
Latest products
Portable, self-driving stretch wrapper
Improved vision technology for AGVs. AGV's for Pallet management, 3D Sensors guided Automatic Guided Vehicles move pallets in the warehouse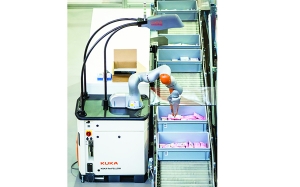 Robotic picking solution handles broad range of products. Robotics in the warehouse. Swisslog Robots for picking.
AGV battery can be charged in unit. The heavy-duty model BST undercarriage AGV tugger operates for a full 8-hour shift without a battery…
Latest materials handling news