North Texas WERCouncil to hold 16th Annual Warehousing Resource Convention
One-day WERC educational and networking event to be held outside Dallas on Thursday, September 7.

By
MMH Staff
·
July 12, 2017
A one-day WERC educational and networking event will be held at the Grapevine Convention Center in Grapevine, Texas, outside Dallas on Thursday, September 7.
In its 16th year, the event is intended to provide educational and networking value for attendees, especially those living in North Texas. A regional focus provides local solutions—including rack, conveyors, lift trucks, packaging, and technology—from key local and national equipment and system providers.
The show will include an exhibit hall with more than 40 industry suppliers showcasing their warehousing, technology and logistics products, more than a dozen educational breakout sessions, breakfast, lunch, and snacks, gift and cash raffles, and networking opportunities. Before August 18, the event costs $20 for members and $30 for non-members, who are welcome and are typically the majority of attendees. After August 18 the rates include an additional $10.
Click here for more information and to register.
Related Topics
News
Warehouse
Ergonomics
Technology
Equipment
Conveyors
Education
Logistics
Technology
Warehouses
Warehousing Education and Research Council
WERC
All topics
Latest products
Portable, self-driving stretch wrapper
Improved vision technology for AGVs. AGV's for Pallet management, 3D Sensors guided Automatic Guided Vehicles move pallets in the warehouse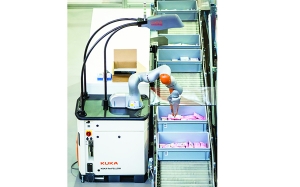 Robotic picking solution handles broad range of products. Robotics in the warehouse. Swisslog Robots for picking.
AGV battery can be charged in unit. The heavy-duty model BST undercarriage AGV tugger operates for a full 8-hour shift without a battery…
Latest materials handling news