The Forzani Group expands through new fullfillment system
In Canada, sports retailer The Forzani Group Ltd. implemented an automated order fulfillment system that tripled throughput without adding to headcount.

By
Bob Trebilcock
·
March 30, 2011
The Forzani Group Ltd, Mississauga, Ontario
Products: Specialty sporting goods
Facility size: 475,000 sq ft
Throughput: 350,000 to 450,000 units per week, depending on seasonality
Employees: 200
Shifts: 2 shifts per day, 5 days per week.
Down here in the lower 48, you may never have heard of the Forzani Group Ltd., unless you're a fan of the Calgary Stampeders professional football teams from the 70s.
In Canada, however, publicly-traded Forzani is the largest and only sporting goods retailer with a national footprint. If you've ever visited a Sport Chek, Sports Experts, Nevada Bob's Golf, Hockey Experts, or EconoSports store on a trip across the border, you've shopped at one of Forzani's 16 unique retail brands.
Founded in 1974 by offensive lineman John Forzani and three of his Calgary Stampeders teammates, the company has grown from a single 1,200-square-foot store in Calgary, to 320 corporate and 245 franchise stores spread across Canada. The chain is still growing.
To manage that growth, along with literally hundreds of thousands of stock keeping units (SKUs), Forzani took over a 475,000-square-foot distribution center in Mississauga, Ontario. At the heart of the DC is a three-tier mezzanine that acts as the order fulfillment engine of a facility with current throughput of up to 400,000 units per week, including crossdocked merchandise, plus room to expand as Forzani's business continues to grow.
Constructed in 2004 and expanded this past June, the mezzanine combines belt and roller conveyor, bi- and quad-directional sortation technology, and a put-to-light system to manage fulfillment and replenishment to stores across Canada. That recipe has allowed Forzani to nearly triple its throughput without increasing its headcount.
"Seven years ago, we had 200 employees and processed 10 million units a year," says Keith Lambert, senior vice president for supply chain and merchandise management. "Today, we have the capacity to do close to 30 million units a year with almost the same number of employees."
Growth through acquisition
The Forzani Group's corporate history reads like the story of a championship team that comes from nowhere to dominance. The original store in Calgary began with a focus on athletic footwear before expanding to include clothing, licensed apparel and sports equipment.
In 1988, Forzani introduced the Relaxed and Rugged (RnR) retail brand, a concept store that offered both leisure and recreational footwear and apparel. Expansion, diversification and acquisition have continued ever since, with the addition of stores specializing in hockey and golf, sports superstores, franchise stores, and value-priced stores. By 1994, when Forzani acquired Sports Experts, a national sporting goods retailer, the company had become Canada's largest specialty goods retailer with 260 stores and annual gross revenues of approximately $266 million. By 2000, Forzani had 14% of the market for sporting goods in Canada. Today, the company has over 11,000 corporate and franchise employees.
As the chain expanded, so did its warehousing and distribution capabilities. "In 1999, we had 80,000 square feet of warehouse space in Mississauga," says Lambert. "By 2001, we had expanded that to 180,000 square feet. By 2004, through a combination of acquisition and organic growth, we were out of space again."
Cubing out the DC
That year, Forzani decided to expand its distribution capabilities in a big way, taking over an empty 475,000-square-foot DC and designing a materials handling system from scratch that would serve its present needs with room to expand in the future.
The initial design incorporated some conventional materials handling solutions, including 120,000 square feet of pallet rack in the replenishment area and a warehouse management system (WMS) to manage receiving, putaway and picking across all those different brands.
"One of the challenges we faced is that most of our store brands were acquired, so they're not all on the same merchandising system," says Lambert, "We end up operating several warehouses within a warehouse on various different operating systems. Our primary banner, Sport Chek, is currently tied to the WMS and our put-to-light and conveyor system. Our go forward plans include getting all of our banners onto that same central merchandising system. By virtue of that, we will have all banners tied to our WMS, put-to-light, and conveyor technology."
The centerpiece of the new facility was an unconventional 28,000-square-foot three-level mezzanine. "One of our primary goals for the new facility was to utilize the whole cube where possible," says Lambert. "In our old building, packing was spread out over almost 80,000 square feet at floor level with 23 feet of unused air above."
Each of the three levels in the new mezzanine serves a distinct purpose.
* On the floor level, merchandise to be shipped is received and containerized in the order fulfillment system, inducted onto a belt conveyor system and transported to the second level.
* On the second level, cartons are sorted to one of two packing areas, or put zones, and then sorted again to a work zone within that area. The put-to-light system directs operators to pick from the cartons and put the items to a shipping container for delivery to the stores.
* If there are any units left after picking in all work areas, the cartons with remaining merchandise travel to the third level where unit level storage and picking takes place.
The mezzanine reduced the floor space needed for these functions by around 52,000 square feet that Forzani was able to utilize for valuable storage space.
Design for growth
Forzani didn't stop growing in 2004. By the end of 2007, the retailer needed more capacity for more stores. The mezzanine had been designed to accommodate a second phase of expansion, which went live this past June. "When we built the mezzanine in 2004, we installed the put-to-light equipment on one side of level two and left the other side empty so we could run a duplicate line when the time was right," says Lambert. "We also used bidirectional diverts in the initial design but put in quad-directional diverts in the new line. That allows us to double up on the number of operators and get more packing during seasonal spikes in volume."
In addition, Forzani introduced a new conveyor line, known as a "slapper line," that crossdocks cartons already allocated to a store from the receiving dock to the shipping sorter in less than 7 minutes. "Casepack crossdocking went from zero in 2002 to nearly 40% of our merchandise today," says Lambert.
The result of all that extra automation: "With the addition of crossdocking, the second put-to-light line and quad-directional diverts, we increased our capacity potential from 450,000 units per week to 600,000 units per week, which means we have room for continued growth," says Lambert. "And, we've seen a 50% improvement in the units per man hour that we're moving through the building."

System suppliers
Systems integrator, conveyor and sortation systems, warehouse control system, put-to-light system, racking and mezzanine: Intelligrated
Lift trucks: Raymond
Bar code scanning: Sick
WMS: Manhattan Associates
This article originally appeared in the December 2008 issue of Modern.
Related Topics
All topics
About the Author
Bob TrebilcockBob Trebilcock, editorial director, has covered materials handling, technology, logistics and supply chain topics for nearly 30 years. In addition to Supply Chain Management Review, he is also Executive Editor of Modern Materials Handling. A graduate of Bowling Green State University, Trebilcock lives in Keene, NH. He can be reached at 603-357-0484.
Latest products
Portable, self-driving stretch wrapper
Improved vision technology for AGVs. AGV's for Pallet management, 3D Sensors guided Automatic Guided Vehicles move pallets in the warehouse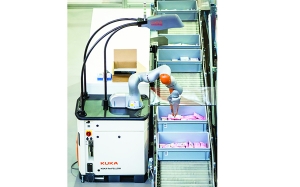 Robotic picking solution handles broad range of products. Robotics in the warehouse. Swisslog Robots for picking.
AGV battery can be charged in unit. The heavy-duty model BST undercarriage AGV tugger operates for a full 8-hour shift without a battery…
Latest materials handling news