Reader survey: Lift trucks keep on truckin'
According to our readers, there's some strong buying expected in lift trucks this year. In fact, 42% of the lift trucks being purchased are for expanding fleets while 58% are replacement trucks.

By
Gary Forger
·
August 7, 2017
If you are planning to buy or lease a lift truck in the near future, you're not alone: Nearly 62% of lift truck users will be looking for new equipment in the next 12 to 24 months. That's according to Modern's annual "Lift Truck Acquisition & Usage Study," conducted by Peerless Research Group.
For a point of comparison, that annual percentage has ranged since 2013 between a low of 58% and a high of 70%. Buyers have been up a little, down a little in that range each successive year, indicating a gentle cycle to retail lift truck activity recently. This is a long way from the roughly 50% swing in lift truck sales during the Great Recession.
Current buying plans indicate a modest expectation to expand fleets: 42% of acquisitions will add to fleet size while 58% are expected to replace existing trucks. While the data reveals that there are plenty of buyers, it also indicates they intend to spend less.
In keeping with where we are in that buying cycle, actual spending plans are a little more subdued now, too. In 2017, 59% will spend less than $50,000 on lift trucks compared to 47% in 2016. And, 16% of readers compared to last year's 22% plan to spend $50,000 to $99,999. In the $100,000 to $249,999 range are 16% of buyers this year and 19% last. Additionally, 5% of respondents this year compared to 8% last are in the $250,000 to $499,999 category. Only 3% plan to spend more than half a million dollars on lift trucks in the near future.
Interestingly enough, decisions to buy or lease these days are only somewhat affected by the economy or market factors. Respondents say 25% of purchase decisions are driven by those factors "to a great extent" while 31% say "to some extent." That leaves 44% saying the economy and market factors have "little or no impact on how we acquire."
So, we dug a little deeper and asked exactly how the economy and market factors affect buying decisions. As you would expect, if business is good, growth is in the forecast and lift truck usage is increasing, acquiring lift trucks is part of the picture. On the flip side, one respondent said: "If we aren't making money, then we don't buy new trucks."
That said, many respondents said quite clearly that they don't let the economy or market factors enter into their buy/lease decisions. One mentioned the decision is based on equipment reliability and age. Another caps service life at 10,000 hours. Or, as one simply said, "purchase is based on need."
In addition to buying plans, the survey profiles fleets, details buying considerations, describes relationships with lift truck suppliers and identifies challenges facing people like you. The box below details how the survey was conducted.
How the fleets look
Nearly 65% of fleets include electric-powered rider trucks. These Class 1 trucks include counterbalanced, sit-down and stand-up types. The next largest category is Class 3 electric-powered walkies, riders, low- and high-lift and reach types. They are in half of all fleets.
The size of these fleets ranges from three trucks or fewer to more than 100. The former accounts for 19% of fleets and the latter for 5%. The largest single grouping is fleets with three to nine trucks, accounting for 32% of respondents.
It's also worth noting that 90% of the trucks in a fleet are considered to be core. The remaining trucks are considered to be reserves.
And they've got some age on them—a major consideration in the decision when to replace lately. The average lift truck in the survey is eight years old. In fact, 50% of companies replace trucks after eight or more years. Another 25% replace them in the five- to eight-year range.
Spending is not limited to lift trucks. Accessories figure prominently, too. Wheels and tires and batteries/battery accessories are the two most frequent purchases, with more than 60% of lift truck users planning to buy them in the next year. Also high on the list are chemicals, lubricants and oils along with tune-up parts and brake components.
Buy, lease or buy and lease?
Everyone is looking for the inside story to that question. And, there is a clear preference for these fleet managers. Buying carries the day with 60% of readers going that route. Only 9% lease while another 31% both buy and lease. In total, 79% are purchasing trucks outright while 21% are leasing.
The survey also asked why readers buy trucks. Fleet managers clearly have multiple reasons for making the buy decision. Almost half said it was "strictly a financial decision/for accounting purposes."
Other leading reasons include "it's cheaper/cost," "better return on investment" and "we have low hour usage for our lift trucks." Each of those was expressed by roughly a third of respondents.
Almost 30% of companies buy lift trucks because "it's what we've always done." And, 20% say it is corporate policy to buy.
On the lease side, the leading reason for that approach is "it gives us flexibility while reducing our upfront investment" for 44% of companies. A third of companies lease because service is part of the lease and maintenance costs are reduced as a result. Improved cash flow is another leading reason to lease at 31%.
For those who both buy and lease, there are two leading reasons, both at 47%, for that approach. One is cost/cash flow reasons. The other is "depends on the situation; sometimes lease and sometimes buy."
Deciding on suppliers
Far and away the preferred source for purchasing lift trucks is dealers. They account for 86% of the activity. And, 14% deal directly with the manufacturer.
Then the question is: How do fleet managers decide who to buy from? Two-thirds rely on an approved supplier short list.
Due to the importance of approved vendor lists, that raises the question: How can a supplier get on a short list? The answers range from "just contact us" to "meet our needs—safety, performance, maintenance service." Others mentioned price, reliability and value.
Those with short lists are also highly pleased with who they have on them. And, 13% have removed a supplier from the list in the past two years. "Lack of service" was the reason most often cited for removing a supplier.
Fleet managers are also open to considering lift truck brands they do not currently have in their fleet. Nearly four out of five (78%) say they are highly likely or somewhat likely to evaluate brands not currently used.
Service and training trends
Clearly, lift truck service is not a function most fleet managers want to handle in house: 24% of them use their own staff. Another 20% outsource to a maintenance/service contractor. The most popular approach (54%) is to outsource service and maintenance tasks to a lift truck dealer.
As one reader said, it is "best to have professionals do regular maintenance to keep our fleet in good working order." Another respondent said outsourcing to dealers is best because "they know their own product." In fact, many other fleet managers echoed that expertise. Outsourcing service is also widely seen as the most cost-effective approach.
That said, use of fleet management technology seems stalled at many companies—34% have either adopted or plan to implement this technology. That's about the same as last year's survey.
Efficacy of fleet management software is a mixed bag. While 30% of readers call their implementation extremely or very successful, 48% say it is only somewhat successful. The balance rated their success even lower. Cost, not the software itself, was often mentioned as the biggest obstacle to implementation.
For those using the technology, there are four leading uses—maintenance history (74%), cost to maintain (59%), age of trucks (58%) and safety, including accidents and injuries (52%). Other important uses are level of utilization, cost to operate and up-time.
When it comes to training, the story is quite different from the service side, however. More than 80% of fleet managers rely on internal training programs. But they also mix it up. About one in five rely on dealers or independent service providers. So there are fleet managers who use more than a single approach for training.
---
The story behind the survey
This year's survey was sent to a lift truck users across industry by Peerless Research Group (PRG). Of the 144 qualified respondents with active fleets, almost 40% are located in a manufacturing plant while others either work in a warehouse facility (22%) or distribution center (30%). A qualified response is someone personally involved in the evaluation, selection and procurement of lift trucks at their facility.
A range of industry sectors are represented, including food and beverage, plastics and rubber, automotive and transportation equipment, textiles, electronics, etc. One out of six work in wholesale or retail trade. The respondents represent a cross-section of company size. About 54% were at facilities with fewer than 100 employees with the balance above 100 employees. The single largest segment within the employee breakouts was 100 to 249 employees, representing 21% of respondents.
---
Related Topics
Features
Magazine Archive
Equipment
Lift Trucks
Forklifts
Lift Trucks
Peerless Research Group
All topics
Latest products
Portable, self-driving stretch wrapper
Improved vision technology for AGVs. AGV's for Pallet management, 3D Sensors guided Automatic Guided Vehicles move pallets in the warehouse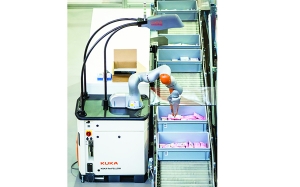 Robotic picking solution handles broad range of products. Robotics in the warehouse. Swisslog Robots for picking.
AGV battery can be charged in unit. The heavy-duty model BST undercarriage AGV tugger operates for a full 8-hour shift without a battery…
Latest materials handling news