Packaging Corner: Software helps eliminate the guesswork in pallet loading
On-board software helps operators quickly optimize pallet patterns and load building with robotic palletizers.

By
Sara Pearson Specter
·
March 8, 2018
With operations struggling to find employees, keep up with packaging variability and frequent changes, and handle different types of products coming from multiple case lines, robotic palletizers are being implemented in packaging and production facilities to boost throughput with automation and eliminate a laborious manual handling process.
Yet, with the profusion and variety of case sizes, treating pallet pattern programming as a set-it-and-forget-it proposition is no longer feasible for many facilities. That's why Schneider Packaging Equipment recently added proprietary OptiStak software to all of its robotic palletizing machines, explains Mike Brewster, director of sales and marketing.
"The software allows operators to create and edit stack patterns directly on the machine's touchscreen human machine interface (HMI). Previously, the alternative was to use a separate laptop or tablet—which can be easily misplaced and often needs updated software—to modify the programming," Brewster says.
"With OptiStak, the operator sees a three-dimensional view of the pallet right at the machine," Brewster says, "and can control multiple variables to customize each configuration, such as indicating a labels-out presentation or alternative stacking patterns."
Users can create optimal recipes in one click, customize pack patterns quickly, and instantly see changes through the software's interface. "Essentially, the software cuts the time an operator might typically spend trying to figure out the arrangement that most tightly and securely packs and palletizes a mixed load," he adds. "Because it eliminates the guesswork and maximizes the amount of product per pallet, it saves tremendous amounts of time."
Engineered to be user-friendly and highly intuitive, the software guides an operator through the selection of case sizes and pack patterns, then creates and recommends the optimal recipe based on the inputs. Further, the software gives operators the ability to adjust patterns on-the-fly, minimizing downtime during changeovers because the palletizer can remain in continuous production, adds Brewster.
"It also allows new products to be added right at the machine, so palletizing doesn't have to stop to accommodate a new item dimension," he adds. "Finally, because the software is integrated with FANUC robotics' PalletPRO system, it allows users to simulate different pack patterns offline to determine the anticipated impact of a packaging change, for example."
What's Related in Packaging
Self-guided AG360 portable, self-driving stretch wrapper
Portable, self-driving stretch wrapper
Duravant acquires QC Industries
Acquisition expands Duravant's material handling product offerings in North America.
Packaging Corner: Software helps eliminate the guesswork in pallet loading
On-board software helps operators quickly optimize pallet patterns and load building with robotic palletizers.
Loftware acquires Gap Systems
Acquisition combines enterprise labeling with artwork management.
Pearson Packaging Systems completes acquisition of Flexicell
Acquisition combines technical expertise in robotic automation and secondary packaging integration.
More Packaging
Related Topics
Blogs
Magazine Archive
Warehouse
Packaging
Fanuc
Packaging
Packaging Corner
Schneider Packaging
All topics
About the Author
Sara Pearson SpecterSara Pearson Specter has written articles and supplements for Modern Materials Handling and Material Handling Product News as an Editor at Large since 2001. Specter has worked in the fields of graphic design, advertising, marketing, and public relations for nearly 20 years, with a special emphasis on helping business-to-business industrial and manufacturing companies. She owns her own marketing communications firm,
Sara Specter, Marketing Mercenary LLC
. Clients include companies in a diverse range of fields, including materials handing equipment, systems and packaging, professional and financial services, regional economic development and higher education. Specter graduated from Centre College in Danville, Ky. with a bachelor's degree in French and history. She lives in Oregon's Willamette Valley where she and her husband are in the process of establishing a
vineyard and winery
.
Latest products
Portable, self-driving stretch wrapper
Improved vision technology for AGVs. AGV's for Pallet management, 3D Sensors guided Automatic Guided Vehicles move pallets in the warehouse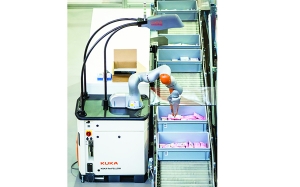 Robotic picking solution handles broad range of products. Robotics in the warehouse. Swisslog Robots for picking.
AGV battery can be charged in unit. The heavy-duty model BST undercarriage AGV tugger operates for a full 8-hour shift without a battery…
Latest materials handling news