TECSYS partners with Ryder to extend reach into health systems market
Supply chain management software provider and fleet management and supply chain solutions company partner to increase transparency and efficiency of supply chain networks.

By
MMH Staff
·
August 11, 2017
TECSYS, a leading supply chain management software company, has announced its partnership with Ryder System, a Fortune 500 commercial fleet management, dedicated transportation, and supply chain solutions company, to address the growing challenges of end- to-end supply chains in the health systems market.
Ryder and TECSYS will work collaboratively to address these challenges by fusing TECSYS' technology with Ryder's supply chain solutions. The U.S. health systems market is estimated at some 550-delivery networks, and is gradually moving forward to modernize its technology platform to meet the efficiency and support challenges to its business model.
Norm Brouillette, vice president and general manager, Ryder Supply Chain Solutions, said, "We are committed to providing innovative technology and solutions to our customers, and our partnership with TECSYS is a great way of delivering on that promise. The healthcare industry is one with some of the most time-sensitive needs, which is why it's so important to work with a supply chain management software company like TECSYS that can ensure patients' needs are always met."
Peter Brereton, president and CEO of TECSYS, said, "Ryder brings a high level of expertise and extensive execution abilities in the overall supply chain management industry specifically in healthcare. The combined offering will provide health systems with an unequivocal choice in addressing their cost cutting and quality of care challenges."
Related Topics
News
Technology
Software
Healthcare
Pharmaceutical
Ryder
Supply Chain Software
Supply Chain Visibility
Supply Management
Tecsys
All topics
Latest products
Portable, self-driving stretch wrapper
Improved vision technology for AGVs. AGV's for Pallet management, 3D Sensors guided Automatic Guided Vehicles move pallets in the warehouse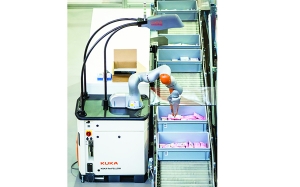 Robotic picking solution handles broad range of products. Robotics in the warehouse. Swisslog Robots for picking.
AGV battery can be charged in unit. The heavy-duty model BST undercarriage AGV tugger operates for a full 8-hour shift without a battery…
Latest materials handling news