This Month in Modern Materials Handling: Methodical steps into the future
Find out the latest news on innovation in the Materials Handling industry for the month of October 2017.

By
Michael Levans, Group Editorial Director
·
October 10, 2017
We're deep into conference season, and chances are high you've found yourself sitting in a session, eagerly jotting notes, anxious to keep step with the latest trends and best practices you can take back to improve your operation.
Chances are even higher that during some of these sessions you started to feel bombarded by a lot of theoretical jargon—terms you've seen pop up in trade publications then trickle down to mainstream news. Industry 4.0. Internet of Things (IoT). Big Data. Robotics. Artificial intelligence (AI). Augmented reality (AR). Blockchain. Self-service analytics.
You've heard them mentioned, a couple were explained in theory at a conference, and now you're seeing white papers putting context around this new round of terms in Modern and in the advertising wells of The Wall Street Journal or The New York Times business section. What does this mean to me? What does this mean to my operation? What am I missing?
These are good questions. And, once you start to digest the materials and better understand the meaning behind these terms and acronyms, you want to know how they apply to a warehouse/DC operation. How are they implemented? What do they look like, act like when fully up and running? What are the benefits?
This month in Modern, our editorial team offers a one-two punch to help you grasp these new terms. In his story "Business as unusual," senior editor Josh Bond says that while these new terms and business models have found many operations managers scratching their heads, it's time for a reality check—and a deep breath.
"The Great Recession and the e-commerce revolution sparked a number of start-ups that have shaken up the solutions landscape with innovative software, hardware and go-to-market strategies that's produced this new lingo," says Bond, "and that's subsequently ignited a healthy amount of panic in operations struggling to make sense of it all. However, they shouldn't be intimidated."
Bond contends that, in many cases, these new start-ups and suppliers can be just as uncomfortable in this new world as those striving for clarity. Take IAM Robotics as an example. This new supplier of autonomous mobile robots to the materials handling space is offering something called robotics as a service (RaaS) that allows operations to test and apply robotics as needed without large up-front capital expense or long-term commitment.
In this month's System Report, executive editor Bob Trebilcock shares how Rochester Drug Cooperative (RDC) worked with IAM on a methodical approach to rolling out robots in its DC. "Adam," a first of its kind, mobile piece-picking robot is now picking from 1,200 SKUs from static shelves in a four-aisle pick zone at RDC.
It's been a on-going, collaborative effort with IAM, learning what a robot would have to do to integrate effectively into RDC's operations. "On one hand, it's a modest implementation at this stage, with just one mobile piece-picking robot," says Trebilcock. "But on the other hand, it's working as advertised and is an ideal illustration of where I think our industry is going in terms of implementing next generation technologies that will move us forward."
Related Topics
Columns
Magazine Archive
Other
This Month In Modern
Technology
Robotics
Big Data
Internet of Things
This Month in Modern
All topics
About the Author
Michael Levans, Group Editorial DirectorMichael Levans is Group Editorial Director of Peerless Media's Supply Chain Group of publications and websites including Logistics Management, Supply Chain Management Review, Modern Materials Handling, and Material Handling Product News. He's a 23-year publishing veteran who started out at the Pittsburgh Press as a business reporter and has spent the last 17 years in the business-to-business press. He's been covering the logistics and supply chain markets for the past seven years. You can reach him at
[email protected]
Latest products
Portable, self-driving stretch wrapper
Improved vision technology for AGVs. AGV's for Pallet management, 3D Sensors guided Automatic Guided Vehicles move pallets in the warehouse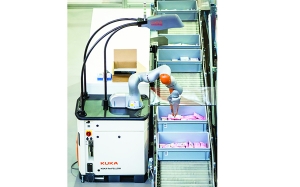 Robotic picking solution handles broad range of products. Robotics in the warehouse. Swisslog Robots for picking.
AGV battery can be charged in unit. The heavy-duty model BST undercarriage AGV tugger operates for a full 8-hour shift without a battery…
Latest materials handling news