About Us
The most comprehensive coverage of the materials handling field.

Since 1946, Modern Materials Handling has provided the most comprehensive coverage of productivity solutions for materials handling professionals in distribution, warehousing and manufacturing.



In total, Modern Materials Handling reaches the largest and most highly qualified audience of executives, distribution center professionals and engineers involved in buying/specifying materials handling equipment and services. We deliver an estimated audience of over 132,000 individuals through our web site, email newsletters, printed magazines, online webcasts/conferences and market-defining research.*
For more information about Modern Materials Handling, please contact:
Advertising:
Brian Ceraolo, Group Publisher
.(JavaScript must be enabled to view this email address)
Editorial:
Michael Levans, Group Editorial Director
.(JavaScript must be enabled to view this email address)
508-663-1500
Subscriptions:
Visit our customer care page

*Source: Publisher's Own Data, Fall 2009 Total Audience Profile (TAP)
Latest products
Portable, self-driving stretch wrapper
Improved vision technology for AGVs. AGV's for Pallet management, 3D Sensors guided Automatic Guided Vehicles move pallets in the warehouse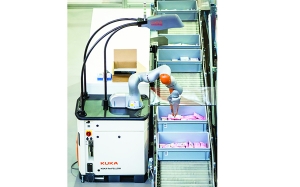 Robotic picking solution handles broad range of products. Robotics in the warehouse. Swisslog Robots for picking.
AGV battery can be charged in unit. The heavy-duty model BST undercarriage AGV tugger operates for a full 8-hour shift without a battery…
Latest materials handling news