Contact Us
Unparalleled opportunities for branding, lead-generation, research and content

Peerless Media produces industry-leading brands in the supply chain, logistics, materials handling and design engineering markets. Each is the content leader in their respective field for news, analysis and resources. Peerless offers unparalleled marketing opportunities for branding, lead-generation, research, content creation and thought leadership.
For Information, please contact:
President and Group Publisher
Brian Ceraolo
.(JavaScript must be enabled to view this email address)
281 Route 79
Morganville, NJ 07751
Tel: 732-970-1070
Office Manager
Laurel Peddie
.(JavaScript must be enabled to view this email address)
111 Speen Street, Suite 200
Framingham, MA 01701
Tel: 508-663-1500 ex 234
Fax: 877-330-7427
Subscriptions/Circulation
Michelle McKeon, Senior Audience Marketing Manager
.(JavaScript must be enabled to view this email address)
508-663-1500 x285
Sales
Northeast/Eastern Canada
Steve McCoy
Sales Manager
.(JavaScript must be enabled to view this email address)
Tel: 508-261-1120
Midwest
Bob Casey
Sales Manager
.(JavaScript must be enabled to view this email address)
Tel: 847-223-5225, ext. 10
Southeast/Mid-Atlantic
Greg Bolen
Sales Manager
.(JavaScript must be enabled to view this email address)
Tel: 704-948-4118
Western Canada Sales
Brian McAvoy, Sales Manager
.(JavaScript must be enabled to view this email address)
111 Speen Street, Suite 200
Framingham, MA 01701
Tel: 508-808-9554
Editorial:
Michael Levans, Group Editorial Director
111 Speen Street, Suite 200
Framingham, MA 01701
800-375-8015
.(JavaScript must be enabled to view this email address)
Executive Editor
Bob Trebilcock
603-357-0484
.(JavaScript must be enabled to view this email address)
Executive Managing Editor
Noël P. Bodenburg
860-217-0474
.(JavaScript must be enabled to view this email address)
Latest products
Portable, self-driving stretch wrapper
Improved vision technology for AGVs. AGV's for Pallet management, 3D Sensors guided Automatic Guided Vehicles move pallets in the warehouse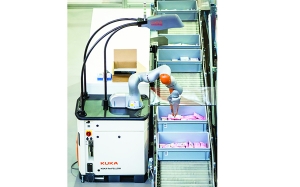 Robotic picking solution handles broad range of products. Robotics in the warehouse. Swisslog Robots for picking.
AGV battery can be charged in unit. The heavy-duty model BST undercarriage AGV tugger operates for a full 8-hour shift without a battery…
Latest materials handling news