Customer Service
Subscribe to Material Handling Product News magazine.

Each issue of Material Handling Product News is packed with information about hundreds of new products that can help your plant, warehouse or distribution center run more efficiently and profitably. Subscribe now to stay on top of the very latest advances in lift trucks, conveyors, containers, racks, pallets, shelves and packaging materials and systems.
Start or renew your subscription today.
Join our free email newsletter lists to keep your finger on the pulse of the industry with news alerts and new product announcements.
Contact Customer Service
Email: .(JavaScript must be enabled to view this email address)
Phone: 1-847-559-7581
Fax: 1-847-564-9453
Mail: Peerless Media, PO Box 677, Northbrook IL 60065-0677
Latest products
Improved vision technology for AGVs. AGV's for Pallet management, 3D Sensors guided Automatic Guided Vehicles move pallets in the warehouse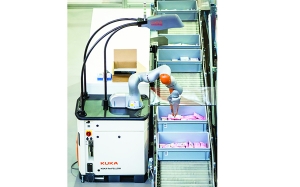 Robotic picking solution handles broad range of products. Robotics in the warehouse. Swisslog Robots for picking.
AGV battery can be charged in unit. The heavy-duty model BST undercarriage AGV tugger operates for a full 8-hour shift without a battery…
Automated robotic truck unloader/loader
Latest materials handling news