Interested in hard copy reprints of a single story from Modern Materials Handling or Materials Handling Product News in a quantity of 100 or more?
Interested in posting a magazine article on your website, in social media platforms, or in email communications with your clients?
Interested in showcasing your content in your office or lobby with a professional framed award?
For reprints and licensing please, contact:
Wright's Media
Phone: (281) 419.5725
Toll Free: (877) 652.5295
Or, for additional details about reprints, visit us at Modern Materials Handling or Material Handling Product News.
Latest products
Improved vision technology for AGVs. AGV's for Pallet management, 3D Sensors guided Automatic Guided Vehicles move pallets in the warehouse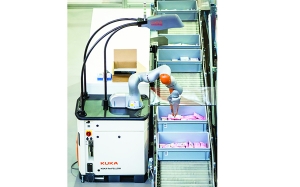 Robotic picking solution handles broad range of products. Robotics in the warehouse. Swisslog Robots for picking.
AGV battery can be charged in unit. The heavy-duty model BST undercarriage AGV tugger operates for a full 8-hour shift without a battery…
Automated robotic truck unloader/loader
Latest materials handling news