Subscribe to Magazines and eNewsletters
Begin or renew your FREE subscriptions to the market-leading magazines and eNewsletters from Modern Materials Handling .

FREE Magazine Subscription
Modern Materials Handling delivers an insider's look at what some of the world's most innovative companies are doing to improve productivity, quality and throughput in their plants and distribution centers. From lift truck and conveying equipment to the latest technology trends in RFID and WMS, Modern Materials Handling keeps managers and engineers informed like no other business resource.
Start or renew your subscription today.

FREE Email Newsletters
Join our free email newsletter lists to keep your finger on the pulse of the industry with news alerts and new product announcements.

Contact Customer Service
Email:

.(JavaScript must be enabled to view this email address)


Phone: 1-847-559-7581
Fax: 1-847-564-9453
Mail: Peerless Media, PO Box 677, Northbrook, IL 60065-0677
Latest products
Portable, self-driving stretch wrapper
Improved vision technology for AGVs. AGV's for Pallet management, 3D Sensors guided Automatic Guided Vehicles move pallets in the warehouse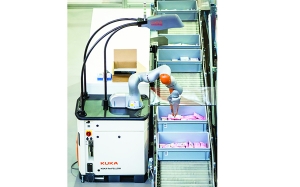 Robotic picking solution handles broad range of products. Robotics in the warehouse. Swisslog Robots for picking.
AGV battery can be charged in unit. The heavy-duty model BST undercarriage AGV tugger operates for a full 8-hour shift without a battery…
Latest materials handling news